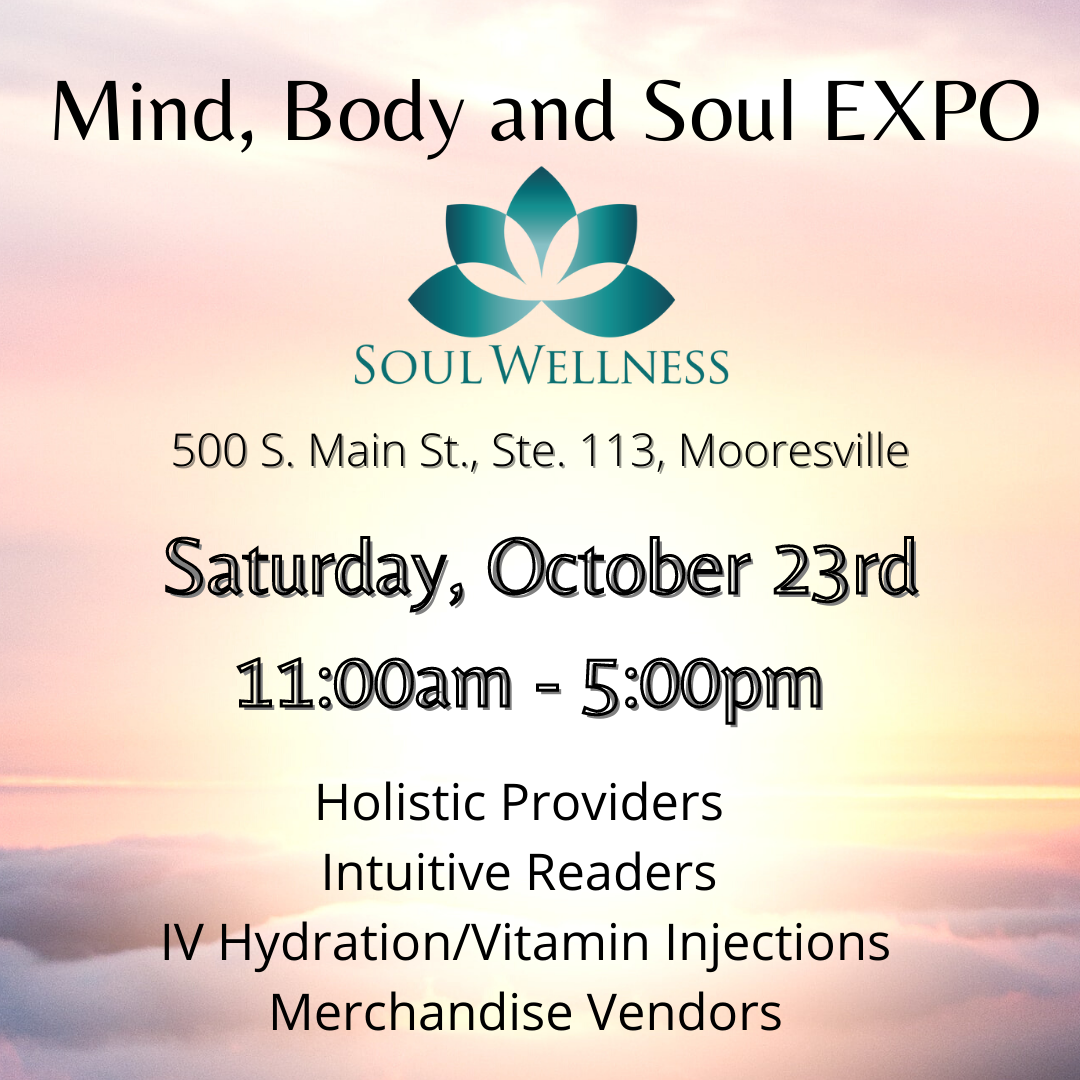 Mind, Body & Soul EXPO
Come out for a fun day at Soul Wellness! Meet various holistic providers and consult on topics such as gut health, hypnosis, energy healing and beauty. Sign up for a short session to experience something new or have an amazing discovery with an intuitive reader. There will be something for everyone! Merchandise vendors will be selling jewelry, candles, skincare, CBD products and SO much more.
Providers – you may contact now to reserve a time from those providing sessions:
Akemi Dooley, Hypnotist and Rapid Transformational Therapy Practitioner, 30 min sessions, $25, text 828-838-4589
Corrine Lewis, Functional Medicine Practitioner and Nutritionist, Free consultations, www.berootedinhealth.com
Barbara Cehelsky, Healthy Skin Spa, 10% off all services and Eminence Products, 40% off SkinCeuticle Products, www.healthyskinspalkn.com
Elise McCutechon, Massage Therapist, $20 for 15 min of Thai Yoga Massage or Mini Ayurvedic Dosha Reading. 858-337-2040.
Lori Petty, Intuitive Reader, 20 min Tarot card readings for $35. 704-727-2882.
Sharee Howze, Intuitive Reader, 15 min Tarot card/Oracle card readings for $35. 803-616-6756.
Hilda Trinh, Akashic Record Readings, 30 minutes $97. 704-300-8468 or hildatrinh@gmail.com
Leilani Bush, Intuitive Reader, 20 minute Tarot card and mediumship readings for $45. 30 min for $60. 704-560-2103
Rachel Heisler, Reiki Practitioner and Akashic Record Readings, $15 for $15 min. info@completeserenityhaling.com
Marilyn Heisler, B.E.S.T. Practitioner, $15 for 15 min, info@completeserenityhealing.com
Christiane Matey, Integrative and Functional Dietitian, Meet and Greet, www.themintnutrition.com
Melissa Giles, Pranic Healer, Meet and Greet, www.oneloveprana.com
Deborah Johnsen, Holistic Health Coach/Diabetic Health Coach, Meet and Greet, www.ourintentionallifestyle.com
Rebecca Duerr, Mindful Family Wellness, Meet the doula sessions and/or 30 min weekly meal planning session including a calendar of meals, shopping list, nutrition breakdown and recipes for $30. https://www.mindfulfamilywellness.com/soul-wellness-expo
Staci Campbell, Certified Birth Doula and Lactation Counselor is offering free consultations and baby weigh-ins
Diane Silvester, Intuitive readings $35 for 15 minutes. diane@soulcentered.com
Candice Erickson – Emotion Code energy healing sessions with muscle testing, 20 minutes for $20, candice@indiglowsoul.com
Blanca Ortiz – Reiki Sessions 15 minutes for $20 or 30 minutes for $35, https://bit.ly/SoulWellSite or bloomingbalance@gmail.com
EmpowerIV – $75 IV hydration or $25 shots: B12, Tri-Immune or Lipo Shot, empoweriv1@gmail.com
Alicia Russ – Reiki and Thetahealing 20 minute session for $25. aliciaruss2@aol.com
Michelle Love – Certified Biofield Tuning Practitioner and Reiki Master is offering 15 minute chair sessions for $20.
Nate Oram – Revelation Spinal Care, NUCCA Chiropractic Clinic, www.revelationspinalcare.com
Stacy Sweeney – Brainwise Solutions, 10 minute Neurofeedback sessions and free consultations, www.brainwisesolutions.com
Thom Catlett – Qigong, Consult with Thom about how Qigong can heal disease by getting to the root cause. www.qigonglcnc.com
Dr. Leslie Wells – Energetic Healing Sessions, 20 min for $20. 743-900-5574
Alicia Cook – Licensed Clinical Mental Health Counselor with Counseling for Conscious Healing, www.councelingforconscioushealing.com
Deborah Johnsen – Diabetic Health Coach with Our Intentional Lifestyle – Free consultations, deborah@ourintentionallifestyle.com
Jane Elkovich – Healing Touch Practitioner, Cranial sacral, reiki and manual technique. Free 15 minute sessions 704-968-5610
Andy Cook – Adapt Performance and Training, Physical Therapy, Free consultations
Vendors:
Club Pilates of Mooresville
Feeling Creatively – Happy gifts, banners, stickers etc. (Classroom 1)
Caesar Toland – Solar Juicing Company (Classsroom 1)
Lindsay Griffin with Soul Love – Handmade Candles, Bath Bombs, Body Butter (Classroom 1)
Kathy Miles with Zolaterra – Plant based, biodegradable cleaning products. Safe for people, pets and plants.
Melissa Giles with One Love Prana – Bath Salts, Essential Oil Sprays, Jewelry (Suite 102)
Elise McCutcheon with EmOcean Healing Arts – Handmade Jewelry (Suite 115)
Lori Petty with Inspirational Enthusiasm – Handmade bracelets (Suite 110)
The Herbal Antidote – CBD products (Suite 124)
Candice Erickson – Homemade essential oil diffuser blends, $12.00 as well rollerball oil blends, Calming Holiday, Sweet Dreams, Stress Less and Immunity for $8.00 each (Suite 111)
Lake Norman Water Tree – Alkaline water
Tracy Delguidice – Beautycounter – clean ingredients
Total Nutrition Technology