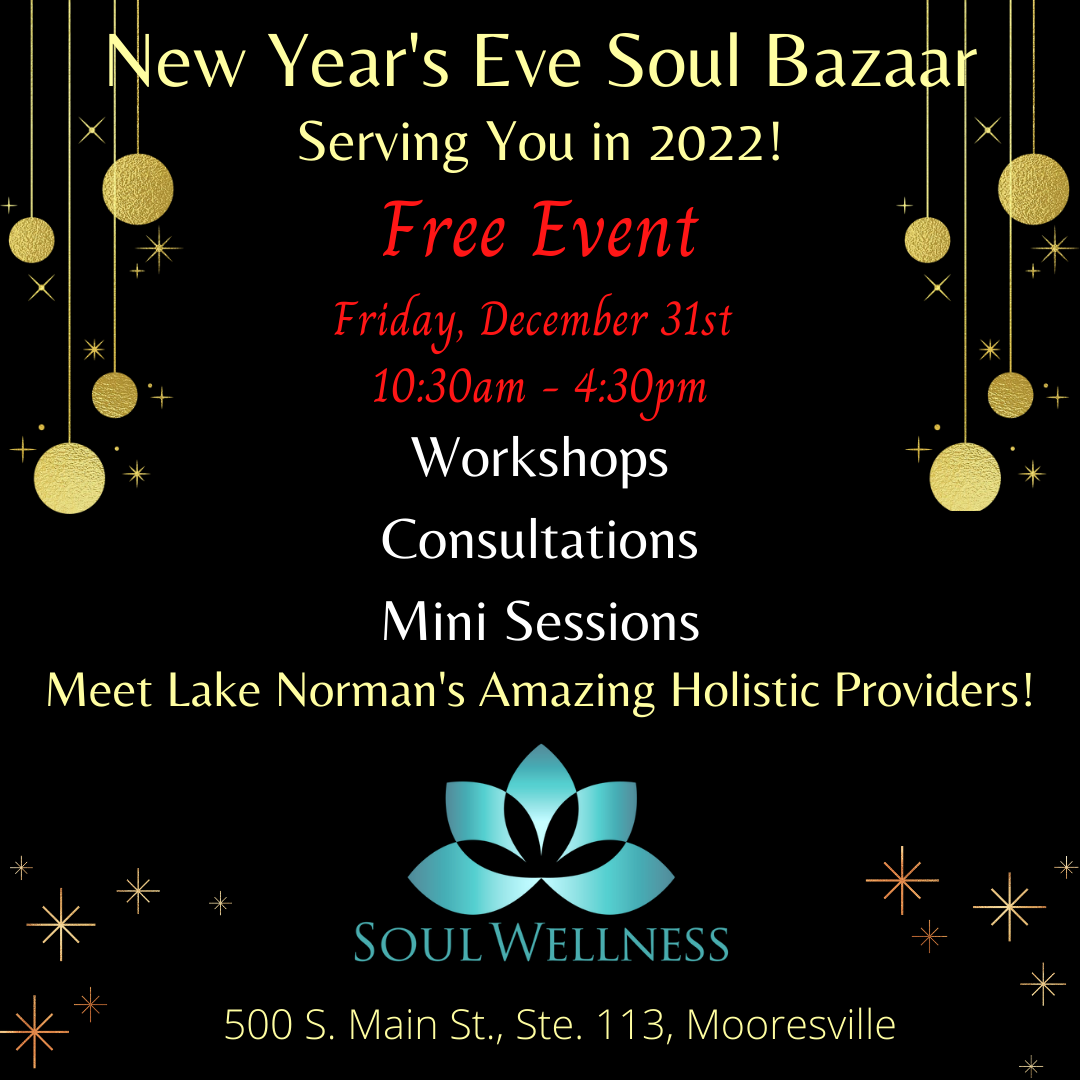 New Year's Eve Soul Bazaar
Serving you in 2022! This FREE event is the perfect way to end 2021 and start out the new year right. There will be 3 amazing workshops to choose from:
11am – 12pm with Akemi Dooley: "Healing Your Inner Child" Guided Meditation/Hypnosis
It's amazing what you pick up as a child and carry with you the rest of your life. Aki can help you uncover limiting beliefs and heal your inner child. This powerful guided meditation/hypnosis is a great start to self awareness and healing.
1pm – 2pm with Thom Catlett: Tai Chi/Qigong fusion
By combining the benefits of both Tai Chi and Qigong, the class will enjoy flowing movements that are focused on enriching your overall health, internal organs and adding a sense of balance and well being to your life.
3pm – 4:30pm with Blanca Ortiz, Grant Hill, Maranda Curry and Jess Harriman: Sound Energy Healing
The grand finale workshop! Time to relax, let go and raise your vibration. This workshop combines a little reiki, some restorative yoga poses, beautiful sound bowls and a lot of love!
Between workshops, tour Soul Wellness and meet various providers. Learn about a new modality, have a consultation or experience a short session. Learn about things such as setting intentions, protecting your energy, biofield tuning, emotion code, thetahealing and mindfulness.
There is something for everyone at Soul Wellness!
Space is limited for the workshops. If you would like to reserve a space, please visit https://bit.ly/NYESBsignup21 and insert 12/31/2021.