Daily suite or classroom rentals are available in 4 hour increments from 8:30am – 12:30pm, 1:30pm – 5:30pm, 6:00pm – 10:00pm or full days. Please note any special requests or extended hours in the details of your reservation. For use by licensed/certified providers only.
See our Terms and Conditions for details.
If you are hosing a public event, your classroom reservation may be added to the "Events" page at your request.
---
Classroom 1
33' x 20' space with windows
Located off of the waiting room/main entrance
20-30 people average capacity
Chairs and tables as needed
55″ TV with HDMI cord
White board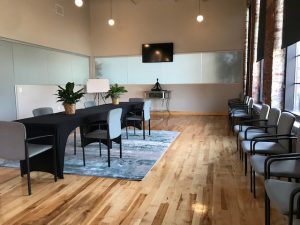 ---
Classroom 2
20' x 12' space, no windows
Located off of the back entrance
5-10 people average capacity
Chairs and tables as needed
Floor and table lamps
Whiteboard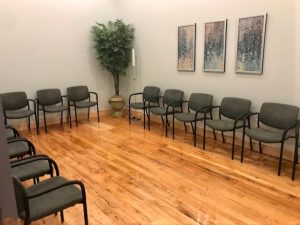 ---
Suite 111
10' x 13' space, no windows
Located directly off of the waiting room/main entrance
Hydraulic massage table that can adjust to lounge position
Bolster, egg-crate table padding, adjustable warming pad
2 comfortable chairs and a small table
Chest for storage
Floor and table lamps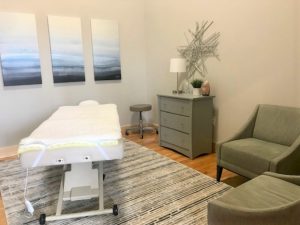 ---
Suite 112
10' x 13' space, no windows
Located directly off of the waiting room/main entrance
Hydraulic massage table
Bolster, egg-crate table padding, adjustable warming pad
2 comfortable chairs and a small table
Chest for storage
Floor and table lamps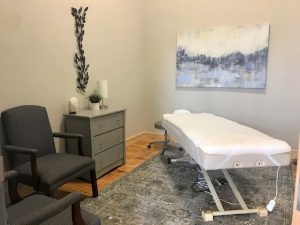 ---
Suite 113
10' x 13' space, no windows
Located directly off of the waiting room/main entrance
Hydraulic massage table
Bolster, egg-crate table padding, adjustable warming pad
2 comfortable chairs and a small table
Chest for storage
Floor and table lamps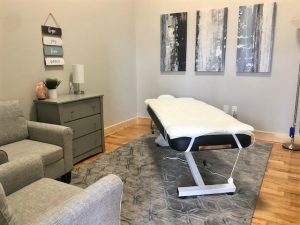 ---
Suite 114
10' x 13' space, no windows
Located directly off of the waiting room/main entrance
Hydraulic massage table that can adjust to lounge position
Bolster, egg-crate table padding, adjustable warming pad
2 comfortable chairs and a small table
Chest for storage
Floor and table lamps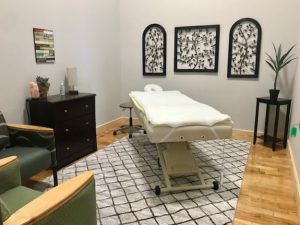 ---