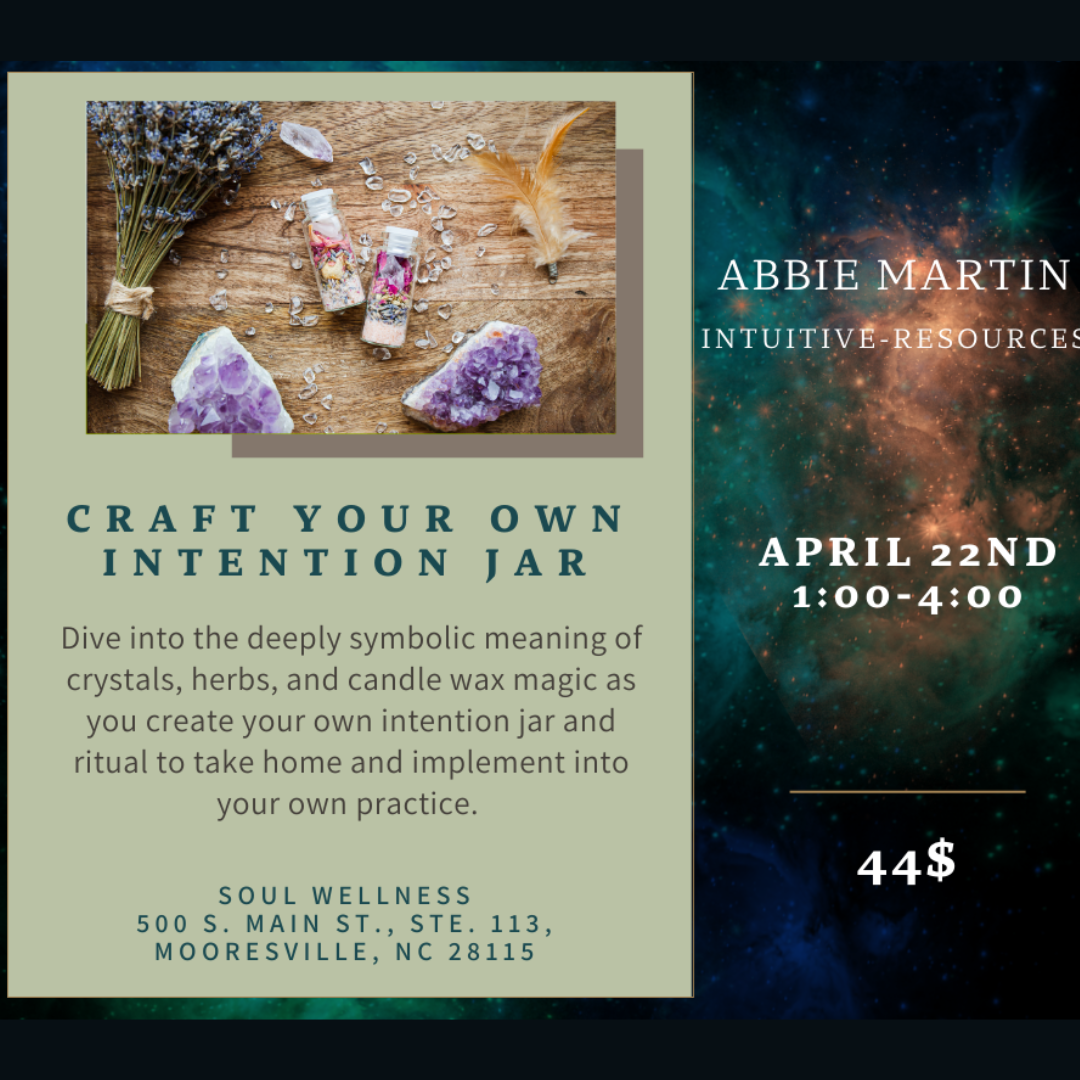 Craft Your Own Intention Jar Workshop
CRAFT YOUR OWN INTENTION JAR WORKSHOP
In this experiential workshop, we will explore the mystical and symbolic properties of crystals, the elemental energies of herbs, and the transformative power of ritual as it relates to the Law of Attraction. We will explore the magic of blending these three elements to create a powerful manifestation tool that I call an "Intention Jar."
MAGIC OF INTENTION
Each herb and crystal have its own unique properties that can be used for various purposes, such as healing, calming, protection, love, abundance, or to amplify your intentions. We will dive into their energies and then explore how to harness the frequencies of the herbs and crystals so that you can bring your intentions into physical form.
You will be guided to create your own intention jar with many crystals and herbs to choose from. You will even get to choose your blend of wax colors to seal the jar and make it uniquely yours.
If that wasn't enough, in this beautiful community setting, we will participate in sacred ritual to infuse the jars with intention and powerful prayer.
This is a magical practice and workshop for those looking to manifest, heal, and transform their life.
EXPERIENCE
• Deep dive into the symbolism of herbs and crystals.
• A hand-crafted intention jar made by you.
• Sacred ritual to infuse intention into your jar.
• Connection with others seeking to find their magic.
WHAT TO BRING
• Yourself
• An open mind
• Paper and pen if you like to take notes
• Optional- Yoga mat and pillow during meditation/ritual. You can sit in the provided chair, but if you like to lie down there will be space to do so.
SIGN UP HERE
https://www.intuitive-resources.com/event-details/craft-your-own-intention-jar-2 or click "Read More"
About Abbie:
Abbie Martin is a best-selling author, Master Wiccan, Law of Attraction Coach, and Intuitive. She is on a mission to bring her brand of magic and inspiration to the world, providing uniquely curated tools that help her clients turn their day to day into sacred ritual. She is the Founder of Intuitive-Resources.com, where she offers powerful coaching, custom rituals and spells, and other worldly alchemy kits that are designed to help bring complex spiritual teachings into physical form.