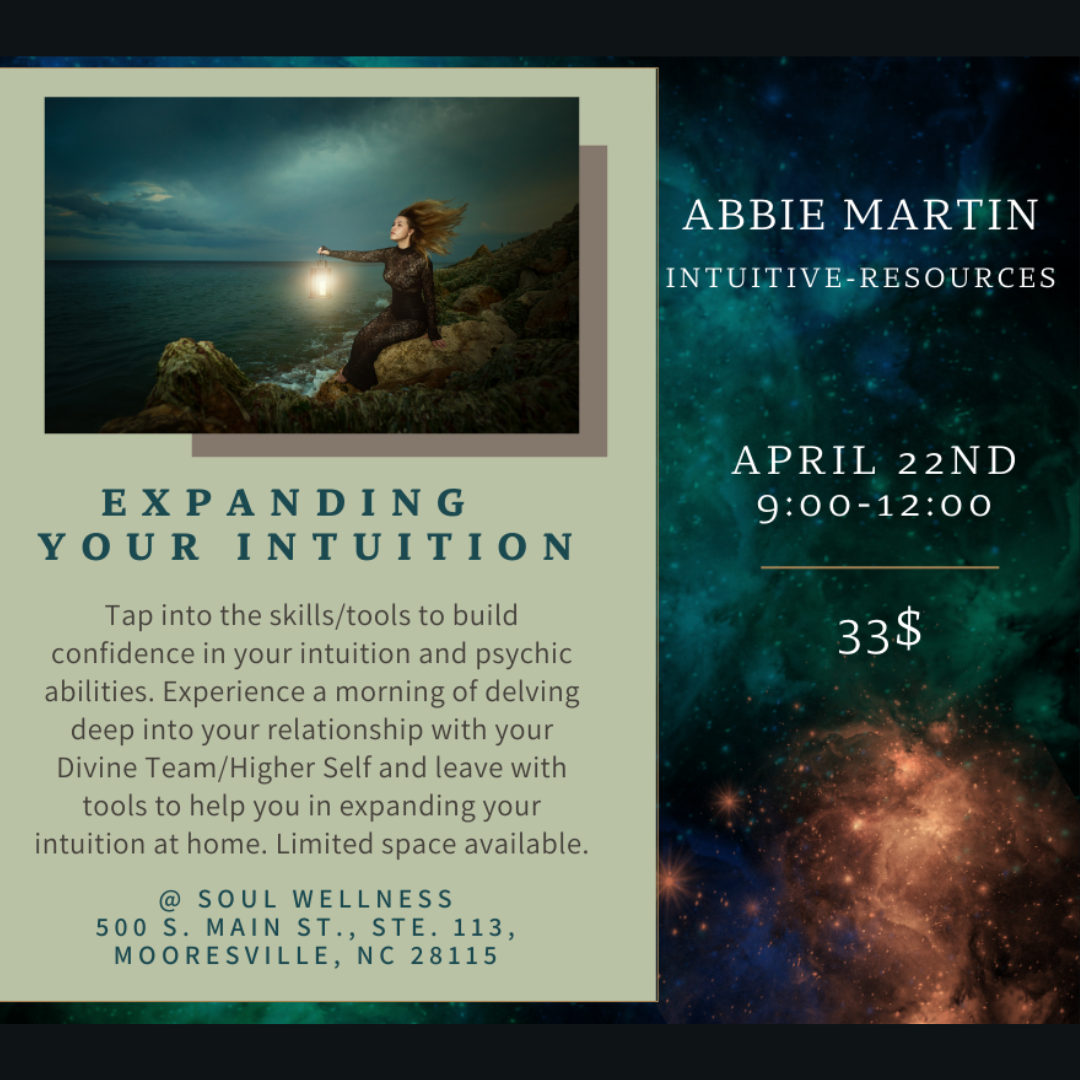 Expanding Your Intuition Workshop
Transform your relationship with your higher self and your divine team. —
Are you ready to unlock the power of your intuition and deepen your connection with your higher self? Do you long to access the wisdom and guidance that lies within you, but are unsure of how to tap into it? Then join me for a transformative workshop of self-discovery and intuitive awakening.
MYSTERIES OF INTUITION
In this workshop, we will explore the mysteries of your intuition and delve into very practical tools that will help you connect with your higher self and your Divine Team. You will learn how to tap into and listen to your divine guidance. We will explore ritual, meditation techniques, divination tools, and other spiritual practices that will help you access the wisdom and guidance of your Higher Self and Divine Team.
This workshop is not just about theory – it's about practical application. You will have the opportunity to practice these tools and techniques in a safe and supportive environment so that you can take them home and integrate them into your daily practice. Whether you are looking to make decisions with more clarity, trust your intuition more deeply, or simply cultivate a deeper connection with your inner wisdom, you will leave this workshop with the tools and the confidence to continue your journey of expanding your intuition and deepening your relationship with your Higher Self and Divine Team.
Join us for a beautiful morning of tapping into your intuition, expanding your relationship with your Divine Team, and connection.
EXPERIENCE
● Techniques to help you unlock your blocks to connecting with your intuition.
● Practical tools that you can take with you to use at home to tap into your Divine Team.
● An experiential ritual that will guide you in tuning in and receiving guidance.
● Deep connection with others seeking the same connection with their Higher Self.
WHAT TO BRING
● Yourself
● An open mind
● Paper and pen if you like to take notes
● Optional- Yoga mat and pillow during meditation/ritual. You can sit in the provided chair, but if you like to lie down there will be space to do so.
SIGN UP HERE
https://www.intuitive-resources.com/event-details/expanding-your-intuition or click on "Read More"
About Abbie:
Abbie Martin is a best-selling author, Master Wiccan, Law of Attraction Coach, and Intuitive. She is on a mission to bring her brand of magic and inspiration to the world, providing uniquely curated tools that help her clients turn their day to day into sacred ritual. She is the Founder of Intuitive-Resources.com, where she offers powerful coaching, custom rituals and spells, and other worldly alchemy kits that are designed to help bring complex spiritual teachings into physical form.