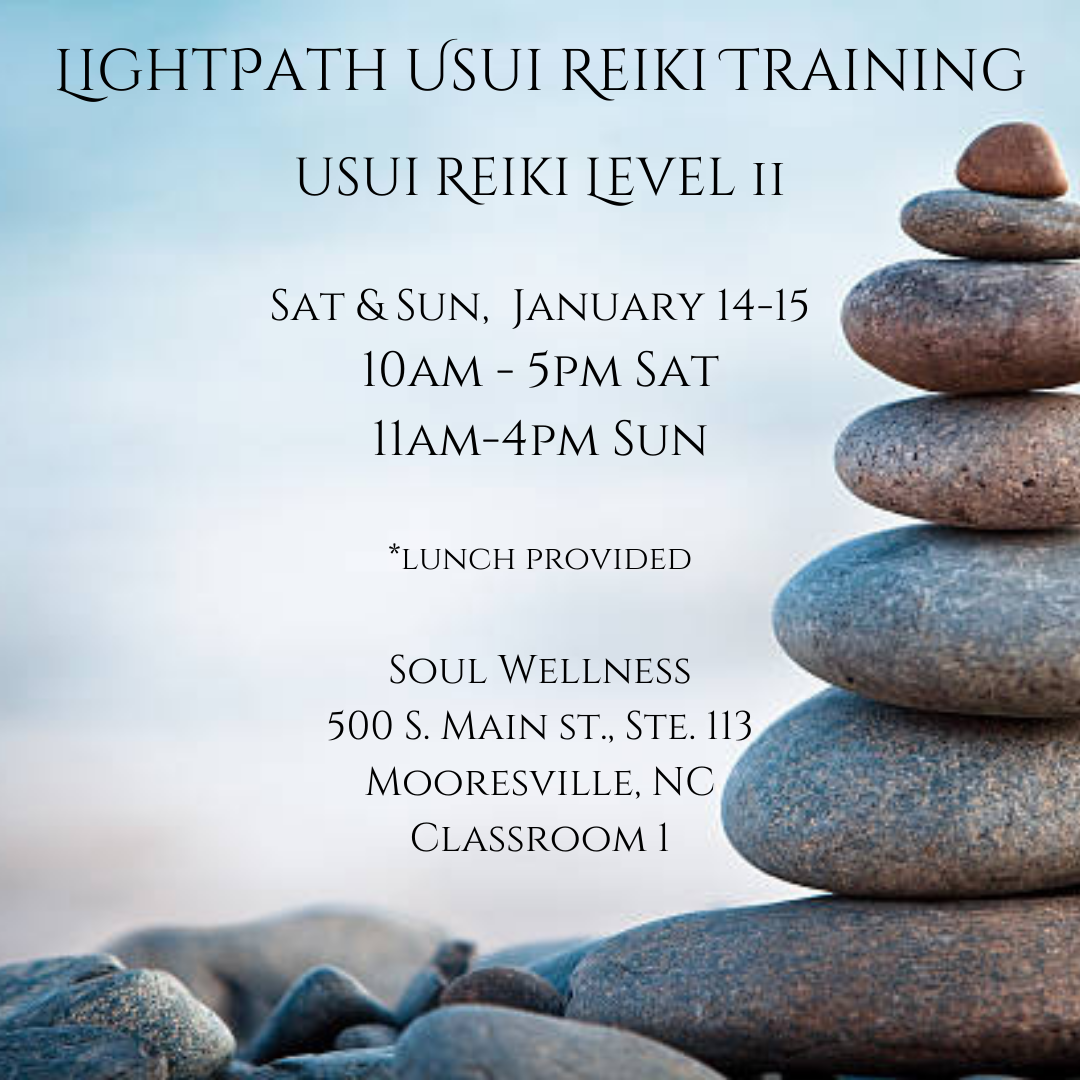 LightPath Usui Reiki Training: Level II
REIKI LEVEL II- EXPANDING HEALING ENERGY
Saturday, 1/14/2023 10am-5pm
Sunday, 1/15/2023 11am -4pm
In level two training, you will learn to use this energy for clearing yourself and others. You will learn the three Reiki symbols, be attuned to them, and use them in practice. Reiki two is said to be a new level of energy and awareness that increases the users intuition between 80% and 100% after attunement. This level of training allows you to use Reiki as a healing and balancing modality for others after a 21 day purification period. After this period you are a pure vessel for the energy.
REIKI 2 ALLOWS PRACTITIONERS TO HAVE HANDS ON PRACTICE WITH REIKI. EXPLORE AND LEARN TO USE GUIDANCE AND INTUITION TO CHANNEL INSIGHT AND LEARN TECHNIQUES TO HELP CLIENTS GAIN AWARENESS OF THEIR OWN ENERGY AND BEHAVIOR PATTERNS. YOU WILL GATHER WITH OTHER PRACTITIONERS TO PRACTICE ON EACH OTHER, GAIN INSIGHTS, SKILLS, AND SPIRITUAL WISDOM THROUGH DEEPER EXPLORATION OF REIKI.
GAIN THE PRACTICAL SKILLS YOU NEED TO GAIN CONFIDENCE IN YOUR CHANNELING AND AWARENESS AND USE OF REIKI FOR THE SUPPORT OF OTHERS.
REIKI IS DIVINE AND UNIVERSAL LIFE FORCE ENERGY, CHANNELED BY TRAINED PRACTITIONERS TO ASSIST IN THE HEALING OF THE SELF AND OTHERS. PRACTITIONERS CHANNEL THIS DIVINE LIFE FORCE ENERGY TO CREATE BALANCE IN THE CHAKRAS AND AURA, AND GAIN INSIGHT INTO THE ENERGETIC PATTERNS CREATING IMBALANCE IN THE BODY, MIND SPIRIT.