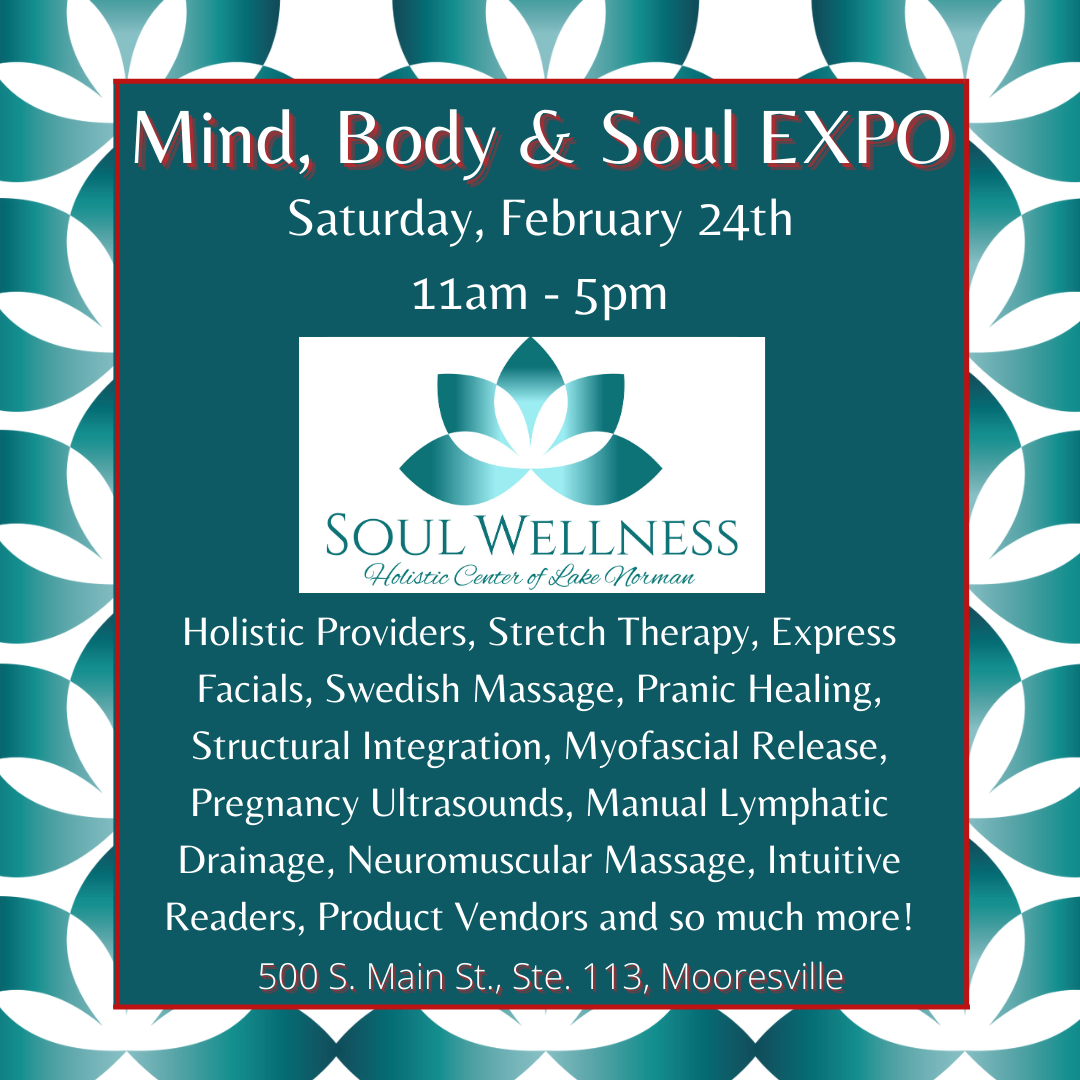 Mind Body & Soul EXPO
Discover the ultimate Mind, Body, & Soul Expo at Soul Wellness! Immerse yourself in a transformative experience where holistic providers and product vendors unite to elevate your well-being. Enlighten your mind with an intuitive reading or a human design consultation. Indulge your body with a variety of rejuvenating massage treatments, structural integration, myofascial release, stretch therapy or an express facial. Replenish your soul with spiritual healers, crystals and energy healing. Explore a marketplace of curated products, from organic skincare to handmade jewelry and candles. Join us on a journey of self-discovery and holistic living. Embrace harmony at the Mind, Body, & Soul Expo — where wellness meets wonder.
You may sign up with providers when you arrive or you may reach out beforehand to schedule.
Providers:
Stretch Spa Lake Norman, Wayne Coolidge, Jr. & Kim Rodes, 704-388-5119
Elite Esthetique, Express Facials, www.elite-esthetique.com
Morgan Stolp, Bundle & Bump Co., $50 Pregnancy Ultrasounds, 704-230-8919
Bri Blankenbicker, The Boobtique LKN, $70 Lactation and Childbirth Consultations, 412-715-7789
Linda Ohlandt, Akeru Massage, Manual Lymph Drainage Therapy, BOGO $30 off 2 sessions, 201-981-5585
Lori Petty, Intuitive Reader, Inspirational Enthusiasm, 704-727-2882
Melissa Giles, Pranic Healer, Handmade Jewelry www.oneloveprana.com
Jill Branch, Structural Integration, Body Transcendence, www.body-transendence.com
Heather Edmunds, Photographer offering $95 Headshots, 704-807-5017, www.momentsbyheatheredmunds.com
Michael Anthony, The Spiritual Health Coach, 980-418-7185, www.thespiritualhealthcoach.com
Micah Duerr, Intuitive Reader specializing in teen readings
Genia Kerley, neuromuscular massage and LifeWave Patches 704-957-1955
Rachel Hatteberg Walt, Human Design Chart Readings, www.rachelwalt.com
Terry Ann, Intuitive Readings, contactterry@terryann.love
Mary Rose Readings with Brooke Jackson, Intuitive Readings, https://calendly.com/maryrosereadings
Kayla Brogdon, Healing Hands Therapy, 15-minute chair massage
Nicole Mitchell, Rise with Me Tarot, Intuitive Readings, www.risewithmetarot.com
Aki Dooley, Hypnosis, Rapid Transformational Therapy, myturn@resetmylifestyle.com
Vendors:
Soul Love Connections: Handmade intention candles infused with Reiki and adorned with crystals
One Love Prana: Handmade Jewelry
Inspirational Enthusiasm: Crystal bracelets
Aroma Power Candle Co.: Whiskey Jar Candles and Crystals
Crisalis: Beaded Jewelry
Ascended Lotus: Healing Oils and Sprays
Leo Belle: Raw Ancestral Products, Shea Butter and Black Soap
Touch Light Chiropractic